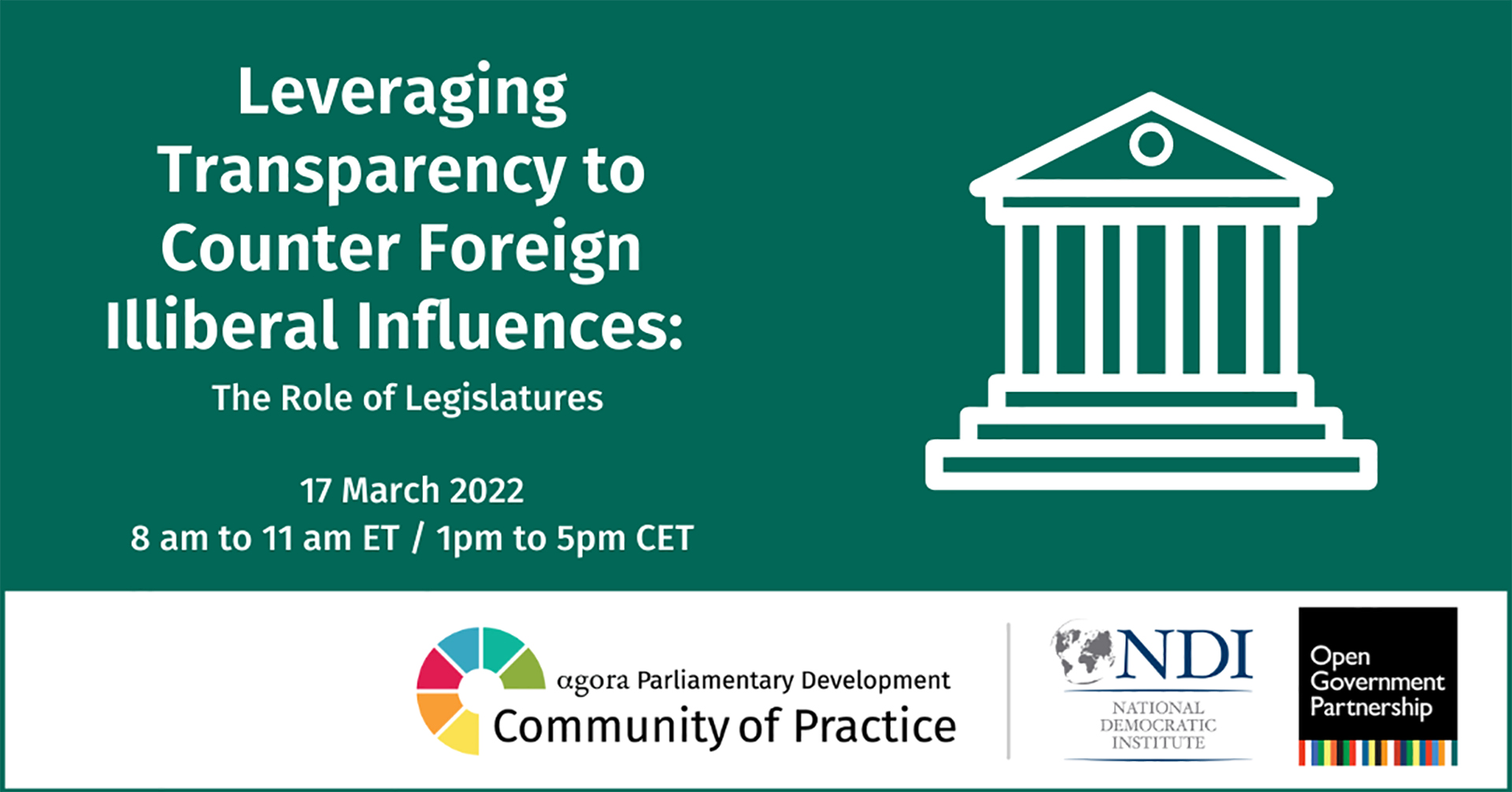 The recent "Leveraging Transparency to Counter Foreign Illiberal Influences: The Role of Legislatures" workshop, organized by the National Democratic Institute and the Open Government Partnership as part of the AGORA Parliamentary Development Community of Practice, convened experts, legislators, and practitioners to discuss how policies that promote transparency can build democratic resilience against illiberal influence operations.
Kristen Sample,  Director of NDI's Democratic Governance team, spoke to the main goal of the event: "We hope that presentations, breakout discussions, and networking will help us collectively identify policy measures and potential commitments for OGP action plans, to understand in what contexts, transparency is an effective measure to combat illiberal influences".
The first session, "Patterns of Foreign Illiberal Influence Operations," provided an overview of the trends, indicators, and policy measures that signify the threat of illiberal influence operations from three different frames in a global context. Interventions of experts included the following presentations: "Opaque Debt" by Bradley Murg, Paragon International University; "Information Operations" by Jessica Brandt, Brookings; and "Malign Foreign Funding of Political Parties" by Joshua Ruldolph, USAID.
Following the Q&A session with speakers, participants were invited to join discussions in the breakout rooms. The first one "Legislative measures to promote transparency in the information ecosystem", moderated by Giorgi Kldiashvili of IDFI, provided lessons, addressed challenges, and shared examples of effective legislative commitments related to transparency and oversight of media ownership, political advertising, telecom and radio infrastructure projects, and press freedom.

The breakout discussion "Combatting opaque debt through transparency", moderated by Karen Young of the Middle East Institute (Gulf Influence), explored the role of legislators in promoting transparent policy making and oversight of debt at the national level. Specifically, it highlighted actionable policies, as well as the challenges faced, to expose and address hidden debt, including in relation to loan agreements involving state-owned enterprises and/or containing confidentiality clauses or the collateralization of strategic reserves.
The final breakout room, "Exposing and countering foreign financing of political parties", moderated by Jorge Valladares, Transparency International, touched upon lessons, challenges, and options for legislative reforms and oversight measures that address the threat of foreign funding of political parties.
The final discussion of the workshop, "Moving Forward with Open Government Partnership", moderated by Joe Foti, OGP, highlighted the challenges, opportunities, and short- and medium-term commitments to combat opaque debt, illiberal information operations, and political party financing. This session focused on how OGP commitments can be leveraged to meaningfully address these issues, through legislation, oversight, and other legislative functions.
A lively discussion between all participants of the event continued in an optional opportunity for one-on-one networking, provided by organisers of the event.
Read the Agenda Outline for more information.