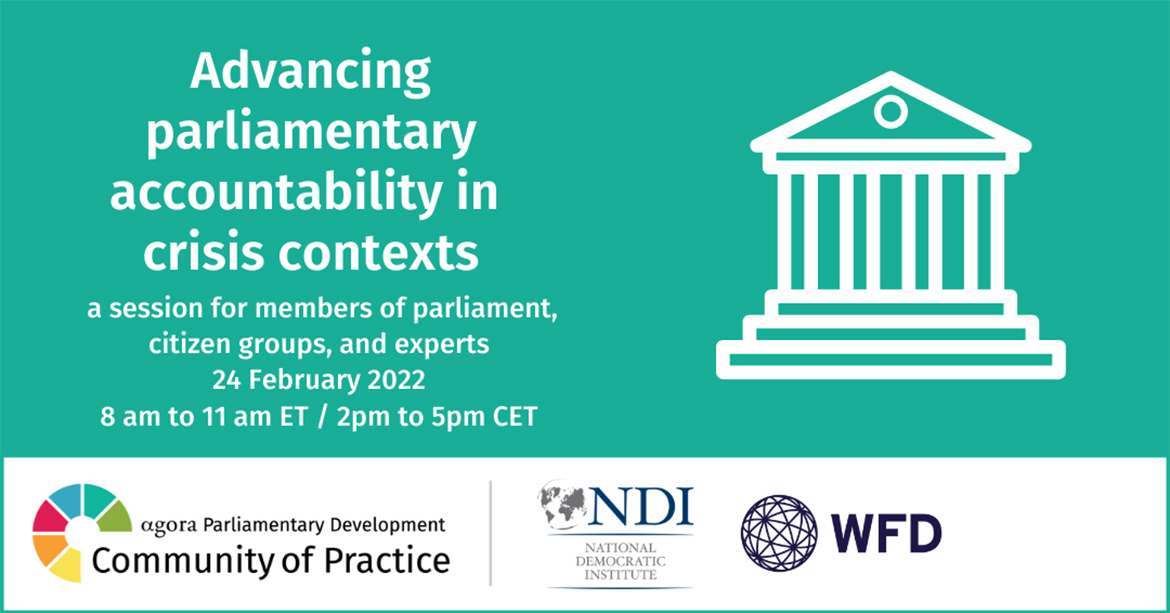 The second AGORA Parliamentary Development Community of Practice (PD COP) webinar "Advancing Parliamentary Accountability in Crisis Contexts", organised by the National Democratic Institute (NDI) and Westminster Foundation for Democracy (WFD) was held on 24 February 2022.
The webinar welcomed 183 participants from all over the world, including members of parliaments, parliamentary staff, representatives from civil society organisations, academia, experts, and practitioners in the legislative assistance field, who joined to exchange experiences and showcase successes and models for effective parliamentary accountability.
Parliaments globally have the important responsibility of engaging in effective oversight of government actions through inclusive representation and informed policymaking. In crisis contexts, these responsibilities are even more critical. The COVID-19 pandemic continues to require governments to deliver resources to impacted and underserved citizens. Additionally, with growing threats from climate change and global conflicts, governments everywhere will inevitably be confronted by crises with increasing frequency, and must be prepared to support citizen security and recovery in those times of need. Parliaments remain on the front lines in ensuring that resources reach citizens during a crisis in a timely manner. 
 
During the first session of the webinar, titled "Establishing a Baseline for Parliamentary Accountability: The importance of democratic benchmarks", experts provided an overview of globally-recognized principles, indicators, and benchmarks for effective and independent legislative institutions and the indicators for Post-Legislative Scrutiny (PLS). Following insightful presentations from Andy Richardson and Irena Mijanovic (Inter-Parliamentary Union) entitled "Parliamentary Accountability within the Global Indicators for Democratic Parliaments" and Franklin De Vrieze (Westminster Foundation for Democracy), and Maria Mousmouti (Institute of Advanced Legal Studies at the University of London (IALS-UoL) entitled "WFD indicators for Post-Legislative Scrutiny (PLS)", participants of the event took part in a Q&A session moderated by Frieda Arenos (National Democratic Institute) to explore the global trends in greater detail.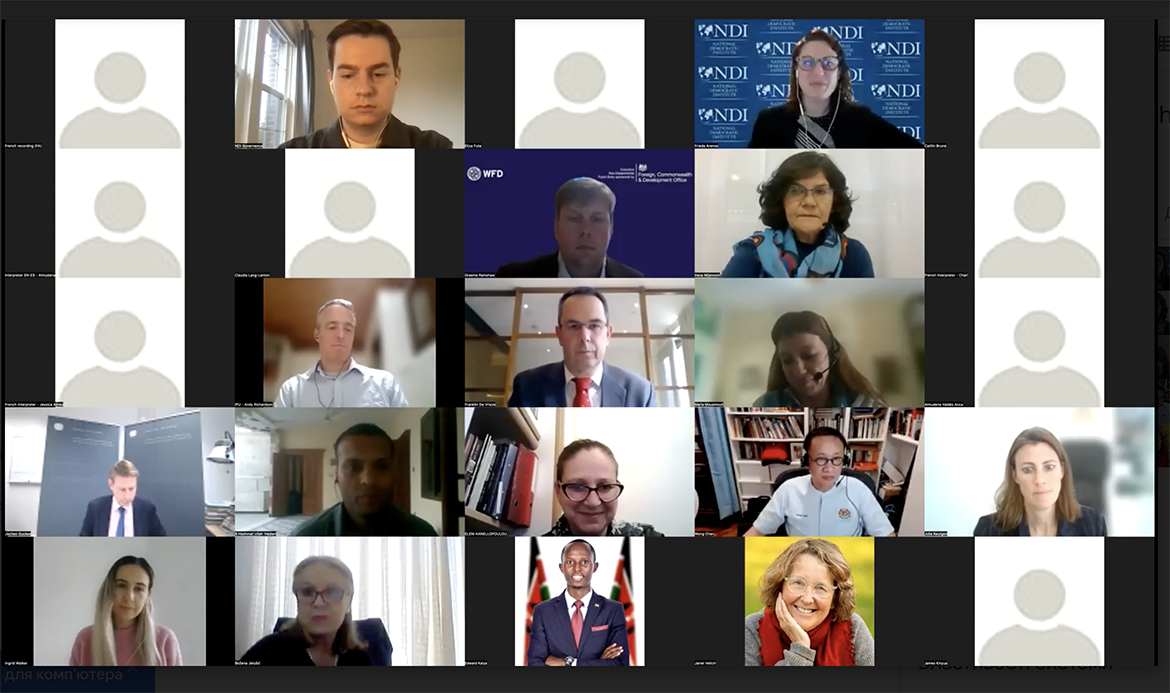 In the following session, Members of Parliaments from various regions delivered a plenary overview, sharing their unique experiences and providing recommendations for parliamentary accountability in different crisis contexts. Following the overview participants were invited to take part in four separate breakout rooms to discuss different mechanisms to advance parliamentary accountability based on the experiences shared. Breakout room discussions were joined by Hon. Birgitta Ohlsson, former MP, Swedish Parliament and former Minister of European Affairs/Democracy; Hon. Ibrahim Conteh, MP, Parliament of Sierra Leone; Dr. Peter Phillips, MP, Parliament of Jamaica; Hon. Božena Jelušić, MP, Parliament of Montenegro.
 
In the final session "Maintaining Accountability of Parliament and its Actions" participants were introduced to an overview of methods for parliamentary accountability, including both internal (i.e. ethics frameworks) and external (i.e. parliamentary monitoring organisations (PMOs) , media, public advocacy) mechanisms. The session featured the perspective of the citizenry on efforts that ensure the integrity and accountability of parliament to maintain oversight and financial scrutiny of government resources and programs.
Presentations were delivered by Samuel Obeng, Parliamentary Network Africa (PNAfrica); James Kan, Citizen Congress Watch, Taiwan; Juan Francisco Krahl, Directorio Legislativo; and Ariola Agolli, National Resource Centre, Partners Albania for Change and Development.
 
Aimed at ensuring lively discussion between all participants of the event, organisers also provided an optional opportunity for one-on-one networking among participants.
Read the Agenda Outline for more information.
Recordings of the Webinar can be found here.